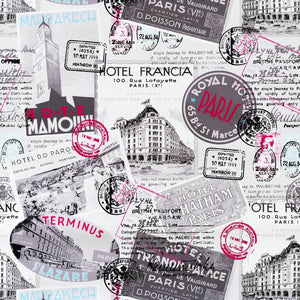 Retro Paris travel Wallpaper vintage postcard posters Italy France
Regular price
$5.00
$0.00
A retro travel wallpaper with vintage postcards and posters. A vintage postcard and poster pattern with a vintage retro look.
Vintage postcards and posters from Paris to Portugal to Marrakech are layered with postage stamps and ticket stubs on this intriguing pattern. Passport entrances that mention England and Warsaw are also seen. This is one of those patterns that the more one looks, the more one sees.
Colors are shades of charcoal, grey, tan, beige, and cream, with black, white, turquoise and cherry red. The colors have been stippled and layered, so many tones of grey and beige are seen. The effect from a distance is charcoal, grey, beige and off white punctuated by cherry red and turquoise.
Scale of Item
The Marrakech poster is just over 11" ( 27.94 cm. ) high and about 7 1/2" ( 19.05 cm. ) wide.
Dimensions
Roll: 32' 6" L x 26-2/3" W
Repeat: 24-3/4" Vertical
Covers 72 square feet
---
Share this Product
---
More from this collection