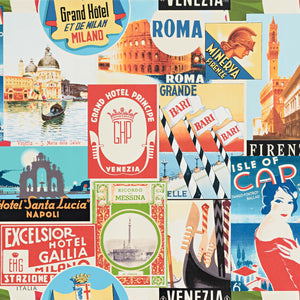 Retro Italian poster Wallpaper Venice Italy Milan Capri - PRE ORDER : Ships October 20th
Regular price
$5.00
$0.00
A retro Italian poster wallpaper! A Venice Italy, Milan, Rome Capri poster wallpaper. This is for those that like bold! 

*** This is a PRE ORDER for ROLLS  : shipment October 20th. SAMPLES ARE IN STOCK AND SHIP IMMEDIATELY ***
A variety of Italian posters are shown on this wallpaper. There are two with scenes of Venice, one of the Colosseum in Rome, and many for hotels, and one for Capri! Some of the images are soft, some bold. The effect is a cheerful, with a melange of colors and textures.
The colors are red, orange, yellow, sky, turquoise, blue, grass, cream, grey, and black with white. The colors have been stippled and over-printed so many other colors are seen, such as gold and brown. The effect is bold.
Scale of Item
The Capri poster is about 8 3/4" ( 22.225 cm. ) wide and about 11" ( 27.94 cm. ) high.
Dimensions
Roll: 32' 6" L x 26-2/3" W
Repeat: 24-4/5" Vertical
Covers 72 square feet
---
Share this Product
---
More from this collection