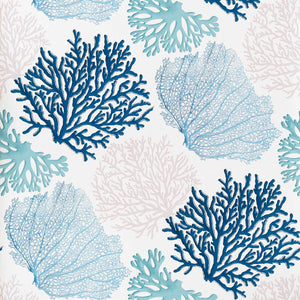 Blue coral wallpaper aqua ocean
Regular price
$5.00
$0.00
A coral wallpaper with blue and aqua coral trees. An interesting ocean coral pattern for those who want something a bit different.
Softly colored lacy sea fans alternate with pale, delicate coral trees. They are set in diagonal rows that alternate with darker colored, heavier corals, creating a strong diagonal pattern. This is a complex pattern, filled with contrasts. The sea fans and all the tall coral trees point upward, while a short heavy tree faces the other direction; the corals and the sea fans are tonal in coloring, but the pale coral tree is solid; and the pale tree is a delicate contrast to the tonal colors.
This is done in five different blue tones- dark blue, teal, green-blue, bright sky, bright aqua with black, grey and beige. The background is light beige with darker small stipplings. There has been over-printing and many shades are seen. The effect from a distance is of tonal shades of deep blue, aqua, and periwinkle blue, with pale grey on an off white background.

Scale of Item
The large dark blue coral tree is about 12" ( 30.48 cm. ) tall and about 11 3/4" (29.845 cm. ) wide, measuring along the wallpaper.
Dimensions
Roll: 32' 6" L x 26-2/3" W
Repeat: 24-3/4" Vertical 
Covers 72 square feet
---
Share this Product
---
More from this collection