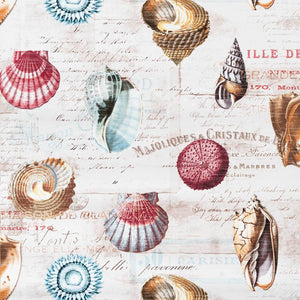 Shell Wallpaper French letters document print travel - Gloss Finish
Regular price
$5.00
Sale price
$150.00
A shell wallpaper with the interest of French letters. A shell document print with a vintage look. This is one of the most unique shell wallpapers we have seen, and it is gorgeous!
Shells, with the look of vintage hand colored prints, float over a background of parchment letters written in French and English. Over and under the shells are advertisements, names of hotels, and addresses, which are also layered. The effect is of vintage letters and French lettering with the large shells. Amazing.
The colors used are tones of taupe, red, orange, muted raspberry, lemon, muted turquoise, sky, with black and white. All of the colors are tonal. There has been extensive over-printing and layering of colors- so many, many colors are seen. The shells are the vintage tones of old prints. The script is done in taupe and charcoal. Other writing is salmon, muted dusty red, and pale washed blue. The background is tonal beige with taupe accents. The effect is vintage.
Scale of Item
The largest shell is about 8 3/4" ( 22.225 cm. ) tall. The writing above the reddish sea urchin- "Majoliques & Cristaux de Bohe" is about 15" ( 38.10 cm. ) across.
Dimensions
Roll: 32' 6" L x 26-2/3" W
Repeat: 24-3/4" Vertical
Covers 72 square feet
---
Share this Product
---
More from this collection