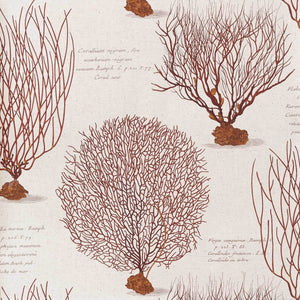 Red sea fan Wallpaper ocean coral - Gloss Finish
Regular price
$5.00
Sale price
$150.00
A red sea fan Wallpaper. An ocean sea fan document script pattern. This reads like an ocean botanical!
Three different sea fans are shown on this wallpaper. While they look a single color, when looked at carefully one sees that each branchlet has outlining or details of different colors. A new branch forming, intersections, and nodules are also colored differently from the main body of the fan. Between them are the documentary details about shells that have been collected, done in script, which gives a slightly vintage look.
The colors that are used are deep red, red, muted orange, orange, lemon, taupey grey, and slate grey. The script is done in taupy grey. The background is a cool greyed brown. The threads have light and dark variations, giving some tonal differences to it. From a distance this looks like dark red with pumpkin, with the grey script, on a tan backgound.
Scale of Item
The large rounded fan is about 16 1/2" ( 41.91 cm. ) tall, measured to the bottom of the grey below it, and about 14" ( 35.56 cm. ) across.
Dimensions
Roll: 32' 6" L x 26-2/3" W
Repeat: 24-2/3" Vertical
Covers 72 square feet
---
Share this Product
---
More from this collection