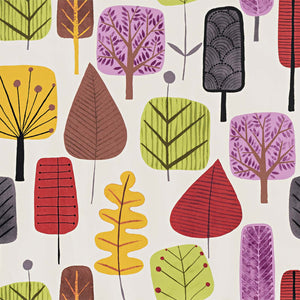 Retro Scandinavian wood Wallpaper tree leaf purple orange - Gloss Finish
Regular price
$5.00
$0.00
Retro Scandinavian wood tree leaf wallpaper. This Scandinavian tree leaf wallpaper has a bright and lively retro look... think Norwegian Wood!
A forest is done in a stylized manner. Most of the trees are soft wood, with branches showing. But there is one evergreen with over-lapping limbs. Interspersed here and there are over-sized oak and birch leaves.
This is done in tonal colors of charcoal, deep orange red, school bus yellow, avocado, and purple, with accents of brown, grey, and black. There has been over-printing and stippling, so many other colors are seen. The effect from a distance is of fall colors of orange and golden yellow with avocado, brown, grey, and black with the surprise of purple, on cream. This is lively and fun!


Scale of Item
The square purple tree with the leaves is just over 7 1/4" ( 19.05 cm. ) tall and is about 5 1/2" ( 13.97 cm. ) wide.. 
Dimensions
Roll: 32' 6" L x 26-2/3" W
Repeat: 25-1/5" Vertical
Covers 72 square feet
---
Share this Product
---
More from this collection